School Vision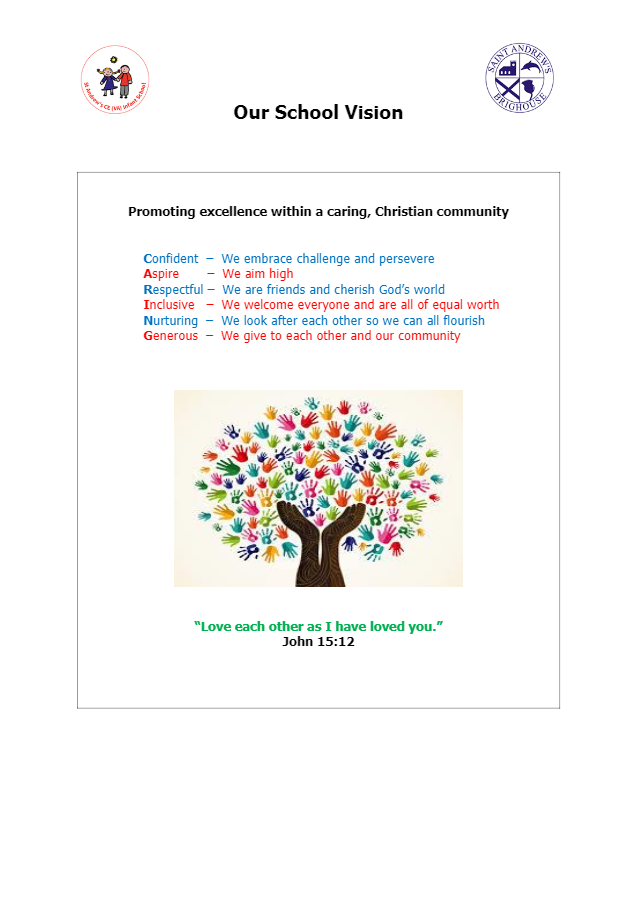 The foundations will be laid for the future mental, physical, moral and spiritual development of each child within a Christian environment.
We aim to encourage children to understand and appreciate that everyone has a right to learn and contribution to make to both our school and to society. Staff will have high expectations of children and will not accept second best. Good manners and behaviour, 'quiet' voices and respect for others will be major elements within the school.  The whole school curriculum, from the start of Reception to the end of Year 2 will follow the requirements as laid down in the Early Years Foundation Stage and the Key Stage 1 National Curriculum.
Every child will have an equal entitlement to the curriculum and a right to learn and live in a happy, trouble free environment. We aim to promote self-esteem and self-respect and to foster tolerance and respect for others.
Each child will be treated as an individual. We aim to build on their preschool experiences so that over the three years they fulfil their own potential. Careful monitoring and assessment will take place from the child's entry into school until the end of Key Stage 1.
Parents/Carers will be encouraged to be involved in the education of their child in ways that are considered appropriate for each individual.
We aim to keep the school in good repair and provide a safe, healthy and attractive environment for all who work within it.
We will regularly monitor, assess and update resources in order of priority.
Governors and Staff aim to maintain and build on good relationships between themselves and with all members of the community. Children and adults are encouraged to show tolerance, sympathy and understanding for the needs of others, and for those having different ways of life, beliefs and religions.
We aim that for all children this school will be a place, not only for learning, but also for fun, joy and developing good relationships.
We intend that each member of staff will have job satisfaction through a realistic job description and feel a valued member of the team. With mutual support and co-operation, we will hopefully reduce personal stress and anxiety and fulfil the aims of the school.
These aims are fundamental to the successful development of the school.